"It's never, never, never the woman's fault. No man has a right to raise a hand to a woman. No means no. […] The one regret I have is we call it domestic violence as if it's a domesticated cat. It is the most vicious form of violence there is, because not only the physical scars are left, the psychological scars that are left. This whole culture for so long has put the onus on the woman. What were you wearing? What did you say? What did you do to provoke? That is never the appropriate question."
—
Joe Biden on Today this morning (h/t Joy)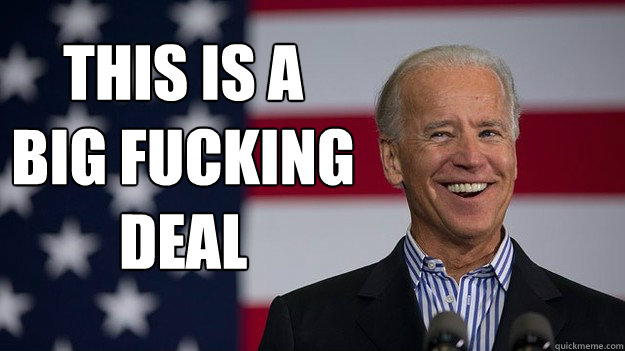 Sometimes I get legitimately depressed that in 2 years Joe Biden won't be in the White House anymore because he is so wonderful.
(via kateceratops)
(Source: fullcredit, via quintessentiallyquirky)
"Human beings like to forget their own bodies, and it takes being ill or turned on, or being threatened by the Supreme Court, to remember them. In fiction, there aren't enough bodies: breathing, eating, having sex, breaking down. Unlike a lot of other writers, Margaret Atwood reasserts the corporeal in all of her work. In an email today, a poet friend of mine wrote, "Then we walked to the public library, where we both took incredibly satisfying dumps." Let's not forget what makes us human, everyone. Atwood never does. When teaching, I ask my students, "What does your character feel, physically?" I want them to describe what a character's stomach feels like; describe how the air feels on his skin; tell me how dry her mouth is. I want to know what the character's relationship is to her own messy, revealing, secretive body. Tell me."
— I wrote about a passage from The Handmaid's Tale for The Atlantic's By Heart series. (via italicsmine)
(via quintessentiallyquirky)
The way to engage students is to make sure that they care about the material and that they know how much you care about them.Research-Supported Methods to Engage Students

From The Highly Engaged Classroom (PDF, 388KB), to School Engagement, Disengagement, Learning Supports, & School Climate (PDF, 133KB), to Strengthening Student Engagement, all the books and articles that have been written on the subject of increasing student engagement could fill a gluttonous orca. But Kristy Cooper's insanely rigorous mixed methods study, "Eliciting Engagement in the High School Classroom: A Mixed-Methods Examination of Teaching Practices," published in the April 2014 American Educational Research Journal, does an exceptional job of showing what works.
(Source: gjmueller)
"LOOKS LIKE MEAT'S BACK ON THE MENU, BOYS" bellows the Orc to his Orc friends. Orcs know what menus are. Orcs know what restaurants are. are there bistros in Mordor? these are the questions i need answering
(via imcastortroy)